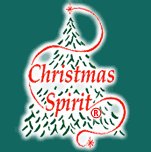 Need gifts for special occasions this year - wedding, anniversary, baby shower, or business function? Order personalized ornaments from Bar Harbor, Maine's Christmas SpiritŪ Shop, and save 3 ways on all orders placed on its website www.ChristmasSpiritShop.com by April 11, 2008.
Click here for details on the 3 ways you can save.
More Special Occasion Ornaments, click here.



Here are the 3 ways you can save:


1. Quantity Discount Savings - Order one style of our personalized ornaments by June 30, 2008, and get a quantity discount of:

10% on a minimum order of 25 ornaments of one style
15% on a minimum order of 50 ornaments of one style
20% on a minimum order of 75 ornaments of one style
25% on a minimum order of 100 ornaments of one style

A single part number defines "one style" of ornament. If the ornament is available in different colors of hair or clothes, we may also be able to offer you these choices as part of your quantity discount selection.

2. 2007 Price Savings - Can't meet our quantity discount levels? You can still save by shopping now before our 2008 price increases on April 12. Just order one or more of anything on our website and save.

As usual, when you order $75.00 or more from our website, we pay for standard shipping to one address.

3. Quantity Discounts on 2007 Prices - Our quantity discounts are only available between January and June each year, but order now before our price increases on April 12, 2008, and get both quantity discounts and 2007 price savings.
Delivery Time for Quantity Orders
Please allow at least 4 weeks for delivery of quantity discount orders within the continental United States, and longer for delivery outside the country. All items are hand-crafted by our artists, which takes more time for larger orders. Our regular delivery time is 1-2 weeks within the continental United States, and 4 weeks outside the country.


Why Order Now?
This is a perfect time of year for our local and American Artists to hand-craft large quantity orders for you. In a few months, they'll be busier making ornaments for Christmas, and won't be able to meet short deadlines for big orders. Our artists need time to handcraft large quantities of a single item, so please order now so we can meet your needs.
www.ChristmasSpiritShop.com
80 Main Street
Bar Harbor, Maine 04609
1-800-242-2913

Forward this to a friend